If your license has been revoked or suspended, or if you are under court order to take a driving improvement program, this is the course for you. As long as your offenses don't include DUI, you can take this course to fulfill the requirements for reinstating your license. With printable certificates of enrollment and completion, you can easily meet the legal requirements for reinstatement. The reward-based and engaging learning modules will help you get back on the road safely and efficiently.
Who Needs to Take This Course?
You need to take this course if you meet ANY of the following criteria:
You have a suspended or revoked license for points and need to reinstate your driving privileges

You need to apply for a hardship license

You have been categorized as a Habitual Traffic Offender (HTO)

You have been ordered by a judge (Court Ordered) 

You need to fulfill the requirement for a "3 Crashes in 3 Years" course

You have received an out-of-state ticket
We're Approved by the Florida Highway Safety & Motor Vehicles (FLHSMV)!
You can rely on American Safety Institute to 
Report your completion of the course to the Florida DMV and Florida courts 

Email your certificates to you immediately to present in court if necessary 
Florida 12-hour Advanced Driver Improvement (ADI) Course Information
Quick, Convenient, Easy, and Interactive
Getting your license revoked or suspended can impede your everyday life. American Safety Institute's 12 Hour Advanced Driver Improvement Course is offered online using our brand new software that allows students to take the course at their own pace on ANY device. This means that you can start the online course on a computer at the library and finish it on your phone or tablet. Many people today choose to save themselves the time and headache of driving to a classroom and take the Florida 12-hour Advanced Driver Improvement Course online with American Safety Institute. Our course is broken down into simple and easy to comprehend sections with a quiz at the end of each one. There is NO final exam at the end, so there is no need to stress!
All you'll need is
Internet access

Computer, phone or tablet 

Spare time
No need to sit for 12 hours at one time!

The Florida 12-hour Advanced Driver Improvement Course is split into sections. You're more than welcome to take a break whenever you need to stretch and mentally digest the course material. Another benefit of taking the course online is that you can do it anywhere you like. Your comfortable couch or favorite coffee shop are both perfect places to sit down and take our course.
Course Completion Deadlines
You have 90 days to complete your course from original date of suspension or revocation

Failure to do so will result in an automatic suspended license

After 180 days the Florida 12-hour Advanced Driver Improvement Course will no longer be available to you 
Revoked and Suspended Driver's License in Florida

It is a criminal offense to drive with a revoked or suspended driver's license in Florida. The charge might be a felony or misdemeanor depending on the incidents leading to the driver's license suspension. Repeat violations may also affect the charge. Your driver's license might be suspended for various reasons such as driving while intoxicated, driving without insurance, refusing to take a breathalyzer test, supplying fraudulent information during your driver's license application, and ignoring a traffic ticket payment.
What is a Revocation Versus a Suspension of Your License?
Driving is considered a privilege by the state of Florida. If your driver's license is revoked, your privilege of driving on state roads is terminated. You will have to go before a judge and subject yourself to an investigation before you start the process of obtaining your license again. When your license is suspended, however, it is just a temporary revocation for a court determined amount of time.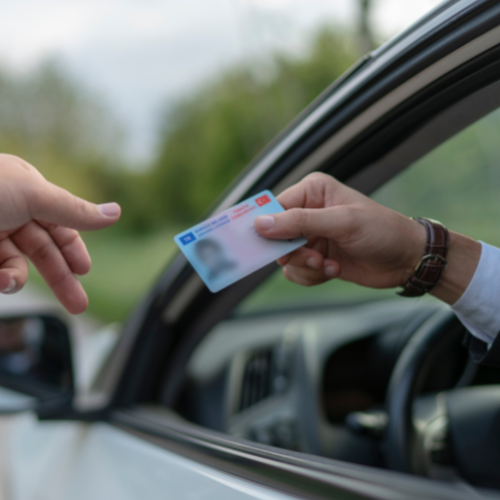 Actions to Take After Your License is Suspended
Surrender your license in your court hearing or to the nearest DMV.

DO NOT DRIVE.

Apply for a hardship license so you're able to drive to work, school, and church.

DO NOT DRIVE.

Take necessary court ordered courses to get your license reinstated.

DO NOT DRIVE.

Check with DHSMV to make sure your records are updated after completing court ordered requisites.
Applying for the Hardship License

Applying for your hardship license is easy. As long as you meet the court-ordered criteria, your license can be reinstated. If you're found guilty of bodily injury, habitual violations, or a death, you will have to wait one year after the court designated date to file for a hardship license with the Florida Administrative Reviews office. After you complete their test and pay the reinstatement fees, you'll be asked to show proof of your Florida 12-hour Advanced Driver Improvement Course.
Safety on the road
starts here.
Unlock the secrets of safe and confident driving with 10 And 2 Traffic School's expert instructors. Our defensive driving program is tailored to equip both teens and adults with the skills and knowledge needed to navigate the roadways with ease and peace of mind. Learn to anticipate the actions of other drivers and make smart, defensive decisions behind the wheel. Enroll with us today and start driving with confidence!
Defensive Driving Techniques
State Approved License #5020
Insurance Discount Courses
Bus Stop In Kingsley Ave. & Plainfield Ave. To 10 and 2 Traffic School in Orange Park, FL
Bus Stop In Park & Wells To 10 and 2 Traffic School in Orange Park, FL
Bus Stop In Blanding Blvd. & Orange Park Northway To 10 and 2 Traffic School in Orange Park, FL
Bus Stop In Youngerman Cir. & Periwinkle Dr. To 10 and 2 Traffic School in Orange Park, FL
Bus Stop In Kingsley Ave. & Professional Center Dr. To 10 and 2 Traffic School in Orange Park, FL
Bus Stop In Kingsley Ave. & Debarry Ave. To 10 and 2 Traffic School in Orange Park, FL
Learn to drive the 10 and 2 Traffic School way!